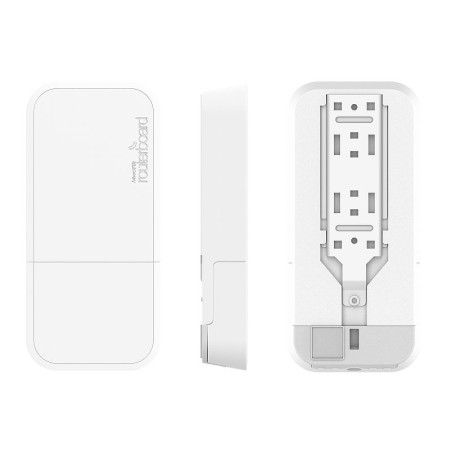  
RBwAPG-60ad
The wAP 60G AP is weatherproof integrated 60 GHz wireless unit, that can be used indoors or outdoors in different scenarios - Base Station, Point-to-Point or CPE.
The box includes a wall mounting kit, straps for pole mounting, power supply, PoE injector and also table stand for using the device indoors. Penetrates some windows depending on material.
wAP 60G AP supports up to eight simultaneous clients on distances of 100m+.
Specifications
Details
Product code RBwAPG-60ad-A
Architecture ARM 32bit
CPU IPQ-4019
CPU core count 4
CPU nominal frequency 716 MHz
Dimensions 185 x 85 x 30 mm
License level 3
Operating System RouterOS
Size of RAM 256 MB
Storage size 16 MB
Storage type FLASH
Tested ambient temperature -40°C .. +70°C
Suggested price $129.00
Powering
Details
Max Power consumption 5W
PoE in 802.3af/at
PoE in input Voltage 11-57 V
Number of DC inputs 2 (DC jack, PoE-IN)
DC jack input Voltage 11-57 V
Ethernet
Details
10/100/1000 Ethernet ports 1
Brochure détaillée
Ancora nessuna recensione da parte degli utenti.