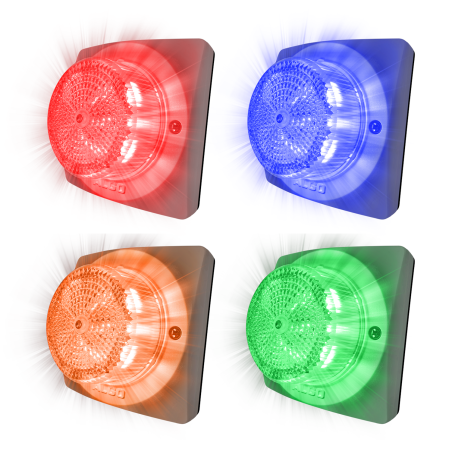  
ALGO 8180 SIP Audio Alerter
8138 IP Color Visual Alerter
IP Color Visual Alerter for Telephone, Safety, Security & Emergency Alerting – PoE
The PoE 8138 IP Color Visual Alerter is a four color LED visual alerting IP endpoint in amber, blue, green and red. This PoE IP strobe light is designed for telephone ringing where noise, noise sensitivity or hearing impairment are at issue. Together with Algo IP speakers, the 8138 is also commonly deployed as part of public address (PA) and mass notification systems to visually alert for safety, security and emergency events.

The 8138 alerter is a fully compliant 3rd party SIP endpoint. As a result, this IP strobe light is compatible with most hosted / cloud and premise-based VoIP telephone systems.

The 8138 IP Color Visual Alerter is UL/CSA, FCC and CE certified.
Wideband G.722 codec (HD voice) support in the speaker provides optimum speech clarity and intelligibility. Voice paging and emergency announcements can be easier to understand with wideband, particularly in a noisy environment. The wideband capability of the speaker improves STI-PA intelligibility scores, which is important in meeting NFPA 72 requirements and the NEMA SB-40 2010 standard for emergency communication in education.

No customer reviews for the moment.